I was lacking some basic (wardrobe) necessities- a handbag, blue jeans and plain Converse (as much as I'd like to rock these every day, sometimes they're just not appropriate).
I was dreading shopping for jeans as I can rarely find a pair that fit my odd shape but I remember how well my Leigh jeans (RIP :-() used to fit so I stopped off at Topshop first. I'm so so glad I did as I came across these badboys- the Jamie jeans. They're suuuuper soft yet thicker than the Leighs and have the perfect snug fit. They're ankle grazers so they cut off before the ankle which isn't great for winter but will be nice for pairing with converse, flats and sandals during the warmer months.
I've been thinking about getting my hands on a pair of white Converse a while. I used to own a white pair of high top Converse with a pink lining when I was 17 but unfortunately they got trashed in the rain and I had to let them go. I picked up the low pair in Office for £42.99, a little more than I would like to have paid but I love them nonetheless.
A couple of weeks ago I bought 'Glow' in Polish from Topshop on a whim, I had hit the lid on my Body Shop baked highlighter so was in need of a new one. My thoughts so far? I found the consistency of it strange at first and often I end up with more product on my finger than I intend. I use it on my brow and cheek bones though, so none goes to waste! It's a lovely warm shimmer and really helps to brighten up my complexion. It has good longevity too.
Unfortunately I haven't had time to photograph during daylight so the quality isn't great nor could I get a photo of my new handbag from Asos.
Here's a pic from the site:
I was a little nervous for it's arrival as I'd had to return another bag I ordered because the strap was too small. No need, this bag is perfect! It's roomy (I carry A LOT of shit around!) and fits comfortably on my shoulder. It's £35 but I had a £10 gift voucher (secret santa present) to use, woohoo!
What do you think of my haul? What have you bought recently? Let me know in the comments!
And don't forget that you can follow my blog with Bloglovin':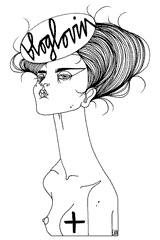 xx